There is a Difference in Swim Baits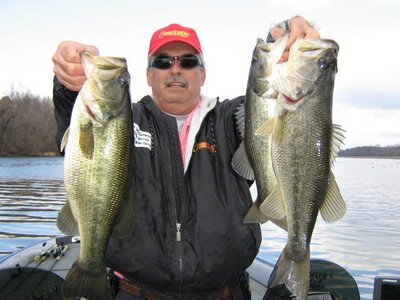 Author: Captain Mike Gerry | Posted: 01/17/2010 As the swim bait craze continues to mature, and the technology keeps getting better; I have found that in the hard bait version of swim baits, there is a difference. The differences are subtle but none-the-less they do make a difference to me. The biggest difference maker is the ability to be life like in the water, to accurately mimic the true natural movement of a fish in water. If swim baits are going to catch fish it's movement has to be as life-like as possible and the Tru-Tungsten swim baits are so natural in the water that the human eye has a hard to impossible time determining the difference.
Not only do these baits resemble life-like baits in the water, but also with a very simple removal of a pin you can add or remove some Tungsten weights from a weight chamber. Tru-Tungsten has engineered a chamber that holds 2 Tungsten ball weights that with a pair of needle nose pliers you can change the drop rate of the bait easily and quickly. The BB type weights sit in the chamber and do not change the life like movement of the bait. They ergonomically drop the bait with enormous detail and movement so you can work the bait as wake bait on top, just under the surface or drop to the bottom and skim the bottom structure. This is truly a difference maker, in most baits adding weight changes the movement, the Tru-Tungsten swim bait life like movement with or with out the BB weights are just amazing.
The combination of Tru-Tungsten, Ish Monroe and Matt Newman as the designers of this bait is one that will once again change the ever-evolving swim bait era of fishing. It's once again an exciting time in the development of tackle, and the Tru-Tungsten development of swim baits just obsoletes all their competition. Try-it I promise you'll immediately see the difference!